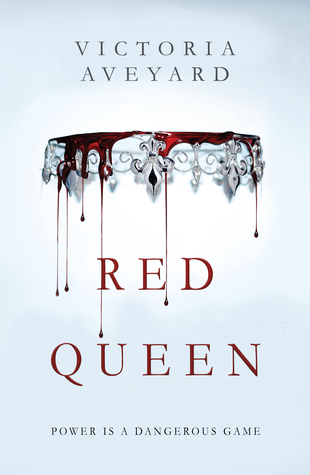 Red Queen

by Victoria Aveyard
on 12-02-15
Genres: Fantasy, Young Adult
Pages: 400
Format: eARC
Source: NetGalley
Amazon
Goodreads

The poverty stricken Reds are commoners, living under the rule of the Silvers, elite warriors with god-like powers.

To Mare Barrow, a 17-year-old Red girl from The Stilts, it looks like nothing will ever change.

Mare finds herself working in the Silver Palace, at the centre of
those she hates the most. She quickly discovers that, despite her red blood, she possesses a deadly power of her own. One that threatens to destroy Silver control.

But power is a dangerous game. And in this world divided by blood, who will win?
Plot: ★★★
Characters: ★★
Readability: ★★★★
Mare Barrow is a Red working to serve the Silvers in the palace.  Mare is well aware of her station, and knows what life has in store for her.  She doesn't waste time on daydreams of princes coming to save her or anything – before she found her job, she was a pickpocket, earning money for her family before the day she knew would have to join the army to fight in the ongoing war.
I have seen so many conflicting reviews for Red Queen – some people adored it, some people despised it.  I'm always intrigued by a book that evokes such strong emotions, and despite the negative reviews, I'm not at all sorry to have read this one.  A theme among some of the negative reviews I've read is that Red Queen feels unoriginal, like a mish-mash of other stories.  In many ways, Red Queen does feel reminiscent of other stories we've read and loved; the lowly Reds, the ruling class with super-powers, the love-triangle, the general concept of an oppressed society who don't fight back until one day a revolution comes…
So yeah, there are similar elements to some popular novels and films, but quite frankly…so what?  The lowly reds are a theme shared with Red Rising, but I think that's more noticeable due to publication timings – The Elites also had a class  that was looked-down upon and referred to as Reds, back in 2013.  The super powers have led to a few X-Men comparisons but superpowers also feature in Steelheart (Brandon Sanderson) and Shatter Me (Tahereh Mafi). As for love triangles – they're in pretty much every genre, and you could try leaving revolutions out of dystopia, but in that case you've just got a story of some miserable people…
So while I can see the similarities to other stories, it absolutely wasn't a deal breaker for me.  Despite those similarities, Red Queen is an original story, and the more I read of Mare's situation and the world she lives in, the more that became clear.
He always lets me think. Sometimes his silence is better than anyone else's words. – Loc 3106, eARC
While Mare won't become a new favourite heroine for me, I liked her.  She's stubborn, she's sarcastic and she's feisty. She's also impulsive, and sometimes both naive and foolish, but that made her more believable.  The one thing I didn't like about Mare was her reactions to the love interests.  It's not insta-love, but I felt almost like she was too easily led; I felt that at times she was both too quick to like a character, and at others like she was too quick to hate one.
None of the other characters made a huge amount of impact on me unfortunately.  I loved Mare's family, but we don't get to see an awful lot of them since Mare is based in the Palace.  I didn't find either of the Princes particularly compelling and aside from the Queen, a lot of the female characters in the palace felt a bit flat.
While I had some issues with Red Queen in terms of the characters, I thought the premise was great.  I liked the politics, I'm intrigued by the Red/Silver genetics (although also a little wary), and I enjoyed the pacing – the book builds up steam as it goes on, so that towards the end you will not want to put it down.
I'm a little undecided about the world-building – I've still got a lot of questions, but I'm hoping those will be resolved in the sequel.  All in all, I enjoyed it, but book 2 will be determining how committed I am to the series.
Buy it? I enjoyed this, but the sequel will really decide whether the story belongs on my shelves. A borrow for me.
In a nutshell: An intriguing story that will sneak it's claws into you the more you read.
Other Reviews of Red Queen: Snuggly Oranges | YA Midnight Reads | Rainy Day Ramblings
Related Posts