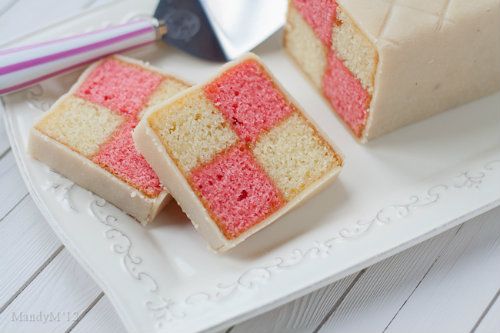 Full Disclosure before you see the results – I am NOT a baker. I like baking (and I certainly enjoy eating the results) but my mum has all the baking talent in our family. Hopefully this gives you a bit of a laugh – it was certainly hilarious at the time.
I discovered the Daring Baker & Daring Cooks challenges through the blog 17andbaking.com, and signed up, knowing full well that I am a total novice and that the recipes would probably not fit in well with the weightwatchers plan my house is currently following.  BUT the whole point of a challenge is to well, challenge yourself, right? So why not sign up for complicated, advanced cooking challenges where my efforts look like a 2 year old's in comparison to the amazing results of the other participants?
Eh, actually, the more I think about it, the more I wonder what I was thinking!  Enough rambling, onto the challenge!
The challenge this month was to create a Battenberg cake.  Step by step instructions with photos, helpful notes and other recipe variations can be found in printable format here.
I planned to follow the recipe almost exactly, just substituting light margarine for butter.
Traditional Battenberg:
Servings: +- 8
Ingredients
¾ cup (1½ sticks) 175gm / 6 oz Unsalted Butter, softened & cut in cubes
¾ cup / 175gm / 6 oz Caster Sugar
1¼ cups / 175gm / 6 oz Self-Raising Flour (***see end of doc on how to make your own)
3 Large Eggs, room temp
½ cup / 65gm/ 2 1/3 oz Ground Almonds (Can be substituted with ground rice)
3/4 tsp / 3½ gm Baking Powder
½ tsp / 2½ ml Vanilla Extract
1/4 tsp (1¼ ml) Almond Extract
Red Food Colouring, paste, liquid or gel
To Finish
1/3 cup (80 ml) 100gm /3 ½ oz Apricot Jam
1 cup / 225gm / 8 oz Marzipan, natural or yellow
HOWEVER…..When it came to time to take the cakes out of the tin, disaster struck!

I'm not sure why, but my cakes were really sticky – I let them cool as instructed, but they wanted to stick to everything – the tin, the chopping board, eachother…. While my mum watched on literally crying with laughter and reminding me "You could have bought one for £1 at the shop".  Supremely helpful.
So, ignoring the giggles, I patched the cake up as best as possible with extra apricot jam and got to cutting into squares.  Once cut, I glued those together with more jam, and got ready to roll more marzipan….when a second disaster struck.
I admit it – this one was completely my fault.  Firstly, I didn't trim nearly enough off the cakes, so they were more fat rectangles than squares.  Secondly, as everything had been packed, we were without a rolling pin, so I sent someone off to the shop, where the only available one was wooden.
Between a cake that was too fat, and a rolling pin that wanted to stick to the marzipan no matter how much icing sugar we dusted, there was no way that marzipan was going to cover the cake.
At which point, I admit it – I broke down. I begged my dad to come and help, because by now I was fed up of looking at it.  He decided we could either trim the cake more (after it'd been glued together) or say **** it and use more marzipan.
Lose some cake, or get extra marzipan? We chose the extra marzipan.


And I confess, we used the
whole packet, all 450g of it, taking the total cake to 105 points or something insane. And it was worth it!
It may not be an attractive cake (or even very recognisably a battenberg) but after the hours we put into making it, the hysteria from observers, the money spent on ingredients and the sheer determination to complete it, we were not going to give up.
We put the cake together, tried a slice each, and then left it covered overnight to take to a family barbeque the next day.
Where all 105 points worth were eaten and thoroughly complimented in about 2 minutes.  That's right, the somewhat mangled, laughable attempt at a cake you see in these photos tasted fantastic! And who cares what it looks like if it tastes good?!
Blog checking lines:
Mandy of What The Fruitcake?! came to our rescue last minute to present us with the Battenberg Cake challenge! She highlighted Mary Berry's techniques and recipes to allow us to create this unique little cake with ease.
Related Posts