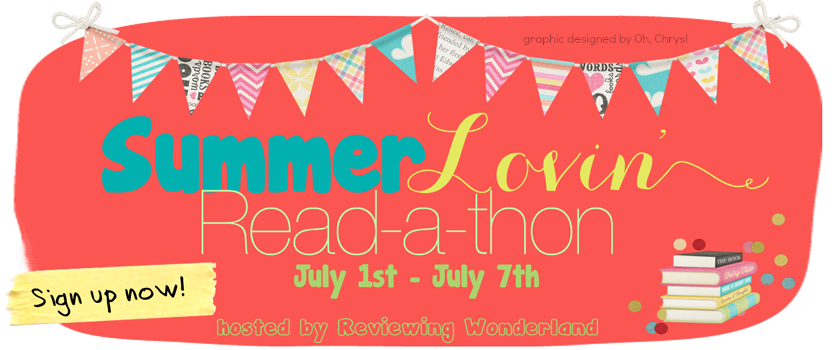 The Summer Lovin' Readathon is a week-long readathon event hosted by seven independent bloggers! (Oh, Chrys!, Tumbling Books, Effortlessly Reading, Love Life Read, Shelf Addiction, Read Sleep Repeat, and Reviewing Wonderland)
Having just started a new job, I've definitely not yet found a balance between work and fun – I'm coming home from work most days ready to pass out! I'm hoping the readathon will give me a bit of a push to read more without giving up on sleep.
My goals
7 hours +
700 pages
3 reviews (or more) written and posted/ scheduled
Try to participate in at least 2 challenges
My choices
First up on the list is The Humans, because I'm three-quarters of the way through that. Afterwards, could be anything! After that I'll just be reading whatever I fancy, since I'm too tired at the minute to force myself to try and read something I'm not in the mood for!  I'll probably be picking something from these books.

Progress
Monday
Reading: The Humans, If You Could be Mine
Time spent reading: 1 hour
# Pages read today:    106                              Total # pages read: 106
# Books completed today:  1                 Total # books completed: 1
Books completed: The Humans

Tuesday –
Reading: Skinny
Time spent reading: 2 hours
# Pages read today:    224                              Total # pages read: 330
# Books completed today:  0                 Total # books completed: 1
Books completed: The Humans

Wednesday
Reading: Skinny, If You Could be Mine
Time spent reading: 30 minutes
# Pages read today:     48                              Total # pages read: 378
# Books completed today:  1                 Total # books completed: 2
Books completed: The Humans, Skinny,

Thursday
Reading: If You Could be Mine
Time spent reading: 30 minutes
# Pages read today:     45                              Total # pages read: 423
# Books completed today:  0                 Total # books completed: 2
Books completed: The Humans, Skinny,

Friday
Reading: If You Could be Mine
Time spent reading: 2 hours
# Pages read today:     169                              Total # pages read: 592
# Books completed today:  1                 Total # books completed: 3
Books completed: The Humans, Skinny, If You Could be Mine

Saturday
Reading: Throne of Glass
Time spent reading: 90 minutes
# Pages read today:     150                              Total # pages read: 742
# Books completed today:  0                 Total # books completed: 3
Books completed: The Humans, Skinny, If You Could be Mine

Sunday
Reading: Throne of Glass
Time spent reading: 30 minutes
# Pages read today:     48                              Total # pages read: 790
# Books completed today:  0                 Total # books completed: 3
Books completed: The Humans, Skinny, If You Could be Mine
Related Posts